OUR MISSION
Our goal? To give you access to latest-generation forklifts and handling equipment, at the best value for money.
Nous sommes fiers de notre raison d'être qui est d'offrir aux moyennes et grandes entreprises, des chariots élévateurs et des services de gestion de flotte de qualité supérieure, facilement, et à moindre coût.
Notre vision 2030
Devenir LA référence en gestion de flotte de chariots élévateurs, en couvrant par notre réseau de succursales, l'ensemble du territoire québécois d'ici 2030. Nous souhaitons tirer profit de la puissance du groupe en matière d'efficacité et de synergie, pour le bénéfice de nos clients et de nos employés.
Portés par nos valeurs, nous voulons nous entourer d'équipiers qui comme nous adhèrent à celles-ci :
Ø Passion - Nous avons tous, comme membre de l'équipe Techlift, un intérêt majeur pour le domaine dans lequel nous œuvrons dans l'organisation et nous contaminons positivement nos collègues grâce à cette énergie passionnée.
Ø Excellence - Nous voulons être les meilleurs dans tout ce que nous faisons afin de pouvoir dire à la fin de la journée : « j'ai offert le meilleur de moi-même, je suis fier de moi et de ce que j'ai accompli aujourd'hui ».
Ø Esprit d'équipe - Nous mettons à profit les forces de nos collègues, car nous croyons fermement que l'union et la collaboration font la force.
Ø Performance - Nous croyons que les affaires performantes et rentables bénéficient à tous et assurent la prospérité de notre entreprise, tout comme celle de nos clients.
Ø Plaisir - Quand on aime ce que l'on fait et que l'on est utile aux autres, on ne travaille plus, on a du plaisir :)
HELI Canada exclusive distributor

Pioneer of electric technology with Li-ion batteries

One of the largest inventories of new and used equipment in Quebec

What's more, we offer a lot more than work tools. When you entrust us with managing your forklift fleet, you no longer have the hassle of maintaining it. This invaluable peace of mind frees you to focus on what really counts: daily performance and your employees' safety.
WHAT SETS US APART
The people behind the expertise

Our experts are here for you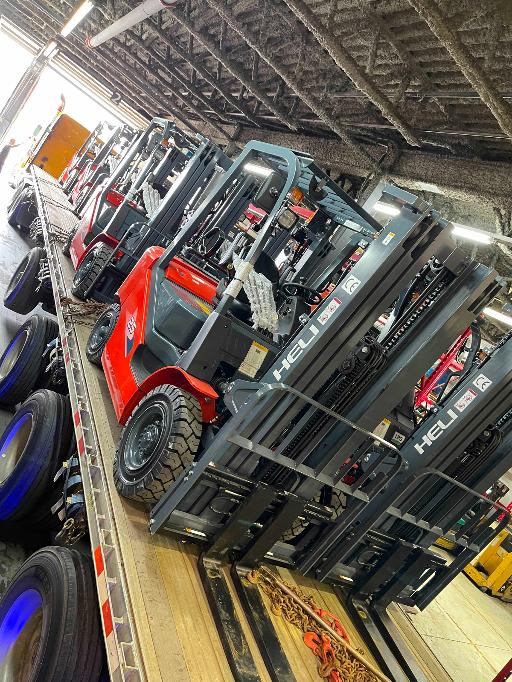 Our employees are what give Techlift its unique customer approach in a forklift market that often lacks a warm a personal touch.

Many of them have been with us since the very beginning and are now passing on their expertise to the next generation in all our Quebec locations. This is how we continue to offer expert service to our clients across Quebec!

Whether you need advice or mechanical assistance, our solutions-driven team meets even the most demanding needs.

Our team's values
DEDICATION - EXCELLENCE

-

TEAM SPIRIT

-

PERFORMANCE

-

FUN
OUR PRESIDENT'S VISION
Reaching new heights
Creating the most efficient logistics chains in Quebec and Canada
"I created Techlift International in 2005 with the dream of building a group that would lead the forklift market in Quebec. Others have joined me on this journey, and together we are working toward this exciting goal through excellent work, while having lots of fun along the way! This means a lot to me, as the son of a mechanic who spent his youth in warehouses.

Our network will soon cover the entire territory of Quebec and all of our locations share the goal of becoming THE reference in forklift fleet management by 2030. I have every confidence that this success will open the doors to the Canadian market for us."

Guillaume Joyal, President of Techlift International